Format Of A Personal Essay Is Best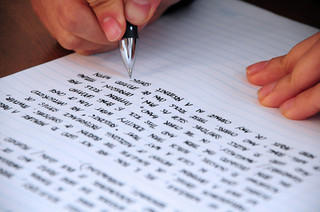 Ironically, as a reader, I never used to be a fan of anthologies or personal essay collections. As a teacher, I did love showing students how to write personal essays or short memoir pieces. As an English teacher and a writing instructor, it often felt miraculous to me how a mediocre piece could be transformed in just a few short weeks through revision, how a piece could evolve from bland and cliched to raw, powerful, and beautiful. But I never liked reading short pieces in my leisure time.
It wasn't until I started writing as a blogger and freelance writer that I started to appreciate collections of personal essays as a genre. I love seeing writers that I "know" online take different perspectives and approach topics with unique styles. As a parent, reading about other mothers' experiences from so many different angles has helped me gain insight into myself as a mother.
I've been thinking a lot about personal essays from three different perspectives: as a reader, as a writer, and now as an editor. I've been trying my hand at publishing my own pieces, and I know that it's hard (really hard) to write a great personal essay.
After our call for submissions for My Other Ex: Women's True Stories of Leaving and Losing Friends, to be published in September, I also spent months reading essays with an editor's eye, trying to decide which pieces to accept and which to pass on. And that was just as hard.
And it occurred to me as a beginning editor that we editors are not often transparent about what we are looking for. I'm lucky in the sense that I taught writing and developed writing curricula for well over a decade, and all of the best practices (and unwritten rules) of memoir and essay writing are (somewhat) fresh in my mind. But most of us writers haven't taken an English class in quite a while. And we aren't recent MFA graduates either.
So here's what I think -- as a teacher, writer, editor, and reader -- about the ingredients of a great personal essay, one that is carefully crafted to draw in a reader, make her care about a topic, and keep reading.
1. Use what you know about good fiction and storytelling. You should develop characters, settings, and plot (a sequence of events) into a story. Use sensory details and vivid description to create separate, carefully chosen scenes.
2. Combine the personal and the universal. This is your story, your life, your emotions but your writing should also express and reveal a larger meaning, a theme, a deeper truth, beyond the surface details of plot and character.
3. Find your voice. More importantly, find your unique voice that is best for each piece, or different moments of the same piece. As Kate Hopper, in the invaluable Use Your Words: A Writing Guide for Mothers, explains, voice is:
"the feel, language, tone, and syntax that makes a writer's writing unique. In nonfiction, voice is you, but not necessarily the you sitting in front of the computer typing away. Voice can be molded by a writer to serve the subject about which she is writing."
It might take a while to find the best voice for a piece. Is the right voice ironic, funny, anxious, playful, breathless, or solemn? We all have multiple identities and show different parts of ourselves at different times. Use that versatility in your writing.
4. Alternate focusing in and focusing out. Choose specific and compelling moments, memories, and feelings, and hone in on them, using those particular moments to help to convey theme and purpose. Pretend you are using a video camera to focus in and out, slowing down the action, like a cinematographer, very purposefully to guide the reader toward what's important in the piece.
5. Be specific, not general. This is what I called "The Rule of the Pebble" to my students (thanks to Nancie Atwell, my writing teacher guru). It basically means don't write about a general topic or idea; write about one particular person, place, time, object, or experience. In other words, don't try to write about all pebbles everywhere (or "love" or "friendship" or "football" or "sunsets"). Write about this one particular pebble (or the friend that broke your heart freshman year, or the sunset that you saw last night, or memory, or place), its meaning to you, the concrete details that shape how you think about it.
6. Experiment and play. Try out different literary devices and techniques, such as similes, personification, and metaphors. Or experiment with using different sentence lengths strategically. Use repetition, of words, of lines, of phrases. Play with imagery. Many of these devices should only be used sparingly, but, used effectively, they can add surprises and richness to your writing.
7. Learn the difference between revision and editing. You must do both. It's easy as a writer to focus on spelling errors and sentence structure, rather than making big (painful) changes to our writing. Revision means "to look again." You do things like: make sure that your theme and purpose for writing are clear; try out different leads (ways to begin the piece); rethink your conclusion; change the organization.
In editing, a separate stage, we do things like catch run-on sentences, fix errors in punctuation or spelling, or replace overused words and expressions.
8. Read, read, read, and read some more. What all writers have in common, as far as I know, is that they're constantly reading. They pay attention to their favorite writer's craft and style and try them out in their own writing. They internalize the beauty and the utility of the perfect word, the perfect sentence, and the perfect metaphor.
What are your favorite personal essays? Whose writing do you turn to as models for your own writing?
To learn more about The HerStories Project and its next essay collection about friendship breakups, My Other Ex: Women's True Stories of Leaving and Losing Friends, visit the HerStories website.
Follow Jessica Smock on Twitter: www.twitter.com/@schoolofsmock
Examples of Successful Statements
Below are samples of personal statements. You may also select "Sample Statement" in the Media Box above for a PDF sample.
Statement #1
My interest in science dates back to my years in high school, where I excelled in physics, chemistry, and math. When I was a senior, I took a first-year calculus course at a local college (such an advanced-level class was not available in high school) and earned an A. It seemed only logical that I pursue a career in electrical engineering.
When I began my undergraduate career, I had the opportunity to be exposed to the full range of engineering courses, all of which tended to reinforce and solidify my intense interest in engineering. I've also had the opportunity to study a number of subjects in the humanities and they have been both enjoyable and enlightening, providing me with a new and different perspective on the world in which we live.
In the realm of engineering, I have developed a special interest in the field of laser technology and have even been taking a graduate course in quantum electronics. Among the 25 or so students in the course, I am the sole undergraduate. Another particular interest of mine is electromagnetics, and last summer, when I was a technical assistant at a world-famous local lab, I learned about its many practical applications, especially in relation to microstrip and antenna design. Management at this lab was sufficiently impressed with my work to ask that I return when I graduate. Of course, my plans following completion of my current studies are to move directly into graduate work toward my master's in science. After I earn my master's degree, I intend to start work on my Ph.D. in electrical engineering. Later I would like to work in the area of research and development for private industry. It is in R & D that I believe I can make the greatest contribution, utilizing my theoretical background and creativity as a scientist.
I am highly aware of the superb reputation of your school, and my conversations with several of your alumni have served to deepen my interest in attending. I know that, in addition to your excellent faculty, your computer facilities are among the best in the state. I hope you will give me the privilege of continuing my studies at your fine institution.
(Stelzer pp. 38-39)
Statement #2
Having majored in literary studies (world literature) as an undergraduate, I would now like to concentrate on English and American literature.
I am especially interested in nineteenth-century literature, women's literature, Anglo-Saxon poetry, and folklore and folk literature. My personal literary projects have involved some combination of these subjects. For the oral section of my comprehensive exams, I specialized in nineteenth century novels by and about women. The relationship between "high" and folk literature became the subject for my honors essay, which examined Toni Morrison's use of classical, biblical, African, and Afro-American folk tradition in her novel. I plan to work further on this essay, treating Morrison's other novels and perhaps preparing a paper suitable for publication.
In my studies toward a doctoral degree, I hope to examine more closely the relationship between high and folk literature. My junior year and private studies of Anglo-Saxon language and literature have caused me to consider the question of where the divisions between folklore, folk literature, and high literature lie. Should I attend your school, I would like to resume my studies of Anglo-Saxon poetry, with special attention to its folk elements.
Writing poetry also figures prominently in my academic and professional goals. I have just begun submitting to the smaller journals with some success and am gradually building a working manuscript for a collection. The dominant theme of this collection relies on poems that draw from classical, biblical, and folk traditions, as well as everyday experience, in order to celebrate the process of giving and taking life, whether literal or figurative. My poetry draws from and influences my academic studies. Much of what I read and study finds a place in my creative work as subject. At the same time, I study the art of literature by taking part in the creative process, experimenting with the tools used by other authors in the past.
In terms of a career, I see myself teaching literature, writing criticism, and going into editing or publishing poetry. Doctoral studies would be valuable to me in several ways. First, your teaching assistant ship program would provide me with the practical teaching experience I am eager to acquire. Further, earning a Ph.D. in English and American literature would advance my other two career goals by adding to my skills, both critical and creative, in working with language. Ultimately, however, I see the Ph.D. as an end in itself, as well as a professional stepping stone; I enjoy studying literature for its own sake and would like to continue my studies on the level demanded by the Ph.D. program.
(Stelzer pp. 40-41)